Laser Stretch Mark Removal
Laser stretch mark removal is a non-surgical treatment option that is extremely effective. Stretch marks are common for many women, especially after child birth and weight loss. When the skin becomes stretched too far or too fast, it can result in unsightly lines. Thankfully, laser stretch mark removal is here to ease your mind and help you regain confidence. Stretch marks are a natural part of life, but that doesn't mean you have to look at them everyday. Thanks to laser therapy, we are able to eliminate stretch marks and provide individuals with clear, smooth skin.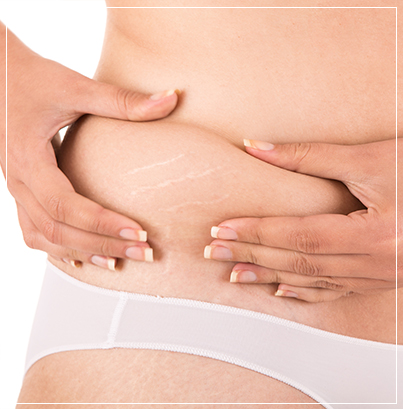 Here at Euro Image Med Spa, we offer laser stretch mark removal therapy utilizing Candela's GentleMaxPro laser. Using pulses of the laser to breakdown stretch marks and improve the overall appearance of the skin, our patients report seeing results in just a few treatments. Each therapy session usually lasts about 30 minutes, leaving the individual with long-lasting results they will be happy with. While stretch marks can happen to anyone, they are most likely to occur when the body experiences drastic change, such as pregnancy or weight loss. Unfortunately, there is no way to prevent stretch marks - even though there are tons of products out there that claim to do so. Your best option is to come into Euro Image Med Spa for a free consultation to see if laser stretch mark removal is right for you.
Benefits of Laser Stretch Mark Removal
Laser stretch mark removal is a great option for individuals who are unhappy with their appearance and are looking for a viable treatment option that really works. Using the GentleMaxPro laser, we can help reduce stretch marks and any redness associated with them. You may be a good candidate for laser stretch mark removal if you are interested in the following:
Smoother skin without surgery
No downtime
Fewer number of treatment sessions
Pain-free therapy
FDA-approved laser therapy
If you are left with unsightly stretch marks because of hormonal changes, weight loss, puberty, or pregnancy, please give Euro Image Med Spa a call today. We offer laser therapy for the removal of all stretch marks in an effort to help patients gain back their confidence and live a life free of worry. We understand that each individual has his or her own skincare concerns and are here to help you find the right solutions for your needs.
Even though stretch marks aren't harmful, they are annoying and can result in body image issues for many people.
Thanks to improvements in laser therapy, men and women of all ages can live a stretch mark-free life. Laser therapy relies on wavelengths of light in order to stimulate new growth of collagen and elastin, which both help the skin appear smooth and free of any marks. Lasers also help reduce the inflammation that causes the stretch marks to begin with. To schedule a free consultation and meet with one of our skincare professionals about laser stretch mark removal, please contact Euro Image Med Spa today.