Laser Hair Removal
Laser hair removal is an excellent option for women and men who are looking to say goodbye to unwanted hair and hello to smooth, glowing skin. Using the number one machine in the nation - Candela - our estheticians are able to provide you with the smoothest skin you've ever imagined. We offer laser hair removal for all skin types and colors, leaving you free from the everyday hassle of shaving, waxing, or maintaining your unwanted hair some other way.
Candela provides the most advanced laser hair removal technology on the market today. This premium laser allows us to remove unwanted hair from all parts of the body, leaving patients with luxurious, sleek skin. Laser hair removal is a non-invasive treatment that addresses cosmetic hair issues, without causing any damage or embarrassing redness. Candela's GentleMax Pro is considered the best machine in the nation because it utilizes a dual wavelength laser platform that combines the fastest and most powerful lasers in order to address hair concerns with speed and efficiency. Here at Euro Image Med Spa, we believe in only providing the highest quality of service to our patients.
Benefits of Laser Hair Removal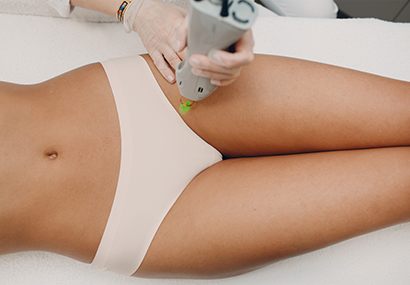 Whether you are interested in laser hair removal for cosmetic reasons or otherwise, we are here to answer any questions and help you better understand the many wonderful benefits. This simple treatment aims to destroy the tiniest of hair follicles in a matter of minutes, which saves you time, money, and an eternity of shaving. Here at Euro Image Med Spa, our medical and cosmetic professionals are highly trained on the Candela machine, and know the best ways to remove that unwanted hair for good. If this is the first time you've considered laser hair removal, it may help to look at the benefits:
Using a laser for hair removal allows us to target specific areas and dark hair, leaving the surrounding skin free of damage

It should be noted that laser hair removal is ideal for dark hair. If you have light hair you'd like removed, you may want to look into other services such as microneedling

We can use the laser to treat multiple hairs at once, which is just one of the reasons why this procedure is so effective
Approximately 90 percent of patients who undergo laser hair removal report permanent hair loss after just one treatment
Laser hair removal has become a highly sought after treatment for both men and women. Here at Euro Image Med Spa, we can target problem areas such as (for women) the upper lip, chin, bikini area, lower legs, underarms, back, arms and (for men) chest, beard, back, abdomen, neck, arms, and legs. Please keep in mind that following a laser hair removal treatment, your skin may be red and sensitive to the touch. We recommend using cool compresses and moisturizers to help your skin recover as quickly as possible. You will notice the treated area will lose the hair follicles over the course of the next month. To learn more about our laser hair removal services or to schedule an appointment today, please give Euro Image Med Spa a
call
.