Juvéderm Voluma XC
Juvederm Voluma XC was one of the first dermal filler injectables that was specially designed to enhance the cheeks and lift the jowls, leaving patients with a smoother looking jawline. Over time, it is only natural for us to experience loss of facial volume and skin elasticity. Lines and wrinkles are unavoidable, however, dermal fillers provide interested patients with an opportunity to reverse time. Thanks to science and advancements in medicine, we are able to change the appearance of the skin on the face. In most cases, loss of volume is due to low levels of hyaluronic acid, which is a naturally occur substance in the body that gives the skin a firm, youthful appearance. As we age, the body's hyaluronic acid decreases, resulting in wrinkles and fine lines. However, Juvederm Voluma can be injected into the cheeks, leaving the skin with a firmer, plumper appearance.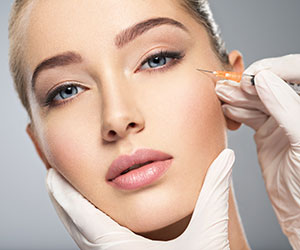 Here at Euro Image Med Spa, we believe in providing services that leave our patients full of confidence. We know that aging can take its toll, which is why we strive to offer facial rejuvenation services that will restore your confidence and youthful appearance of the skin. One of the first things people notice about you is your face and skin. We all want our skin to appear smooth, radiant, and youthful, regardless of how old we are. With Juvederm Voluma XC, you can have just that. We encourage you to give Euro Image Med Spa a call today to schedule a free consultation and see which dermal filler is right for your needs.
Benefits of Juvederm Voluma XC
Juvederm Voluma XC is the first and only FDA-approved injectable on the market today that will give your skin the volume it needs to naturally contour the face, taking away years from your appearance. Patients report noticeable change immediately, instantly making them look younger and more youthful. This particular Juvederm product is designed to counteract aging by restoring volume to the skin and giving sagging skin the boost it needs.
Some of the top benefits of Juvederm Voluma XC include:
Replenish volume and fullness of the face
Lift sagging skin
Restore youthful contours
Restore loss of volume and shape to the cheeks due to age
Individuals who are over the age of 21 and looking for a nonsurgical treatment that will restore facial fullness and volume may be good candidates for Juvederm Voluma XC. This injectable is safe and comes with little to no risk because it contains hyaluronic acid, which the body makes naturally. To learn more about Voluma XC or to see if this Juvederm product is right for your needs, please give Euro Image Med Spa a call today and schedule a free consultation.